Our store
Tel: 519-941-1101
E-mail: info@pearhome.ca
185 Broadway
Mon- Tues 9:30am- 6:00pm
Wed- Fri: 9:30am-7:00pm
Saturday 9:30am-6:00pm
Sunday: 11:00 am-5:00pm
Blog
Beba Bean. The cutest sweaters and moccs for baby. ..#pearhome #orangeville #boutique #shoplocal #shopsmall #baby #babygift #crochet #sweater #moccs #fashion #babyfashion
Moonglow - Pick any date you want to commemorate - the birth of a child, an anniversary, a graduation - and find the exact moon phase through our moon phase...
Do you have your permanent bracelet yet? We offer permanent bracelets 7 days a week! No appointment necessary. We also offer free adjustments. Did your anklet stretch? Is your bracelet...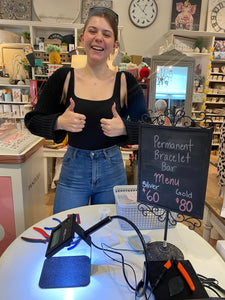 Permanent Bracelet Bar
Check out our newest addition, our Permanent Bracelet Bar. Visit us in store to get your permanent bracelet for you and your bestie!

Currently available in sterling silver and gold filled. 10k Yellow
gold coming soon.

See you in store so you can be Permanently Pear'd

Anklets also availble for an additional $10